Chef Vince's Zeal: Discovering a New Favorite at Chicago Northwest Restaurant Week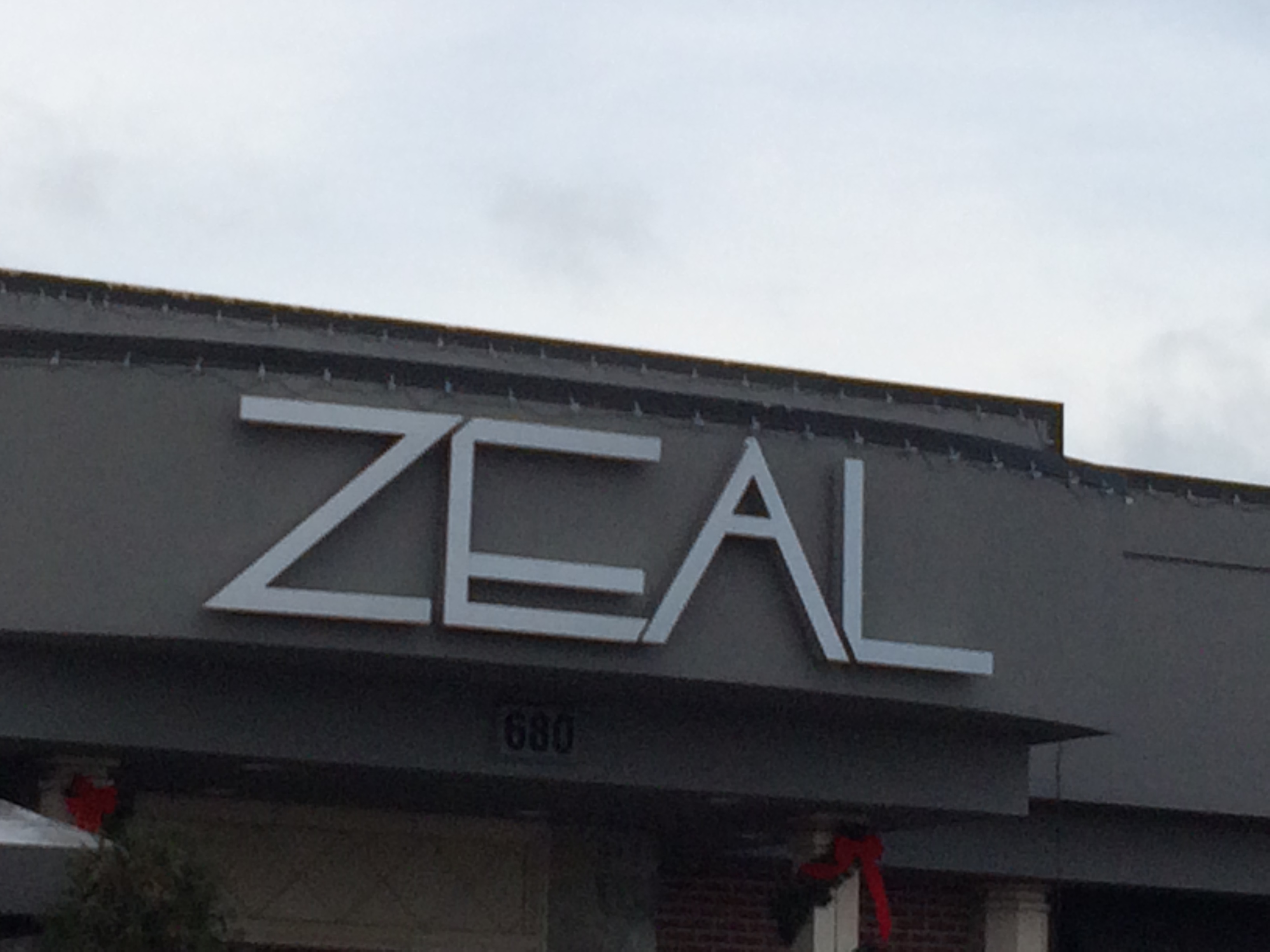 This is it….my last post for my preview of Chicago Northwest Restaurant week (February 24-March 5, 2017). Technically, the event is 10 days so you will have a lot more time to add on to your own list of places you want to go. (Click here to see all of the participating restaurants.)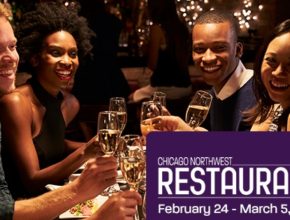 The last place I want to preview for you, Chef Vince's Zeal (680 Mall Drive, Schaumburg, IL) felt more like I didn't discover a new restaurant but that I found a long lost family member…who knows how to cook really well…and has a restaurant.
Chef Vince's Zeal had the magic of taking old school Italian classics and mixing them with a little innovation and a lot of love. (You've gotta have the love!)
Chef Vince has taken his passion for food and family and created an environment that has everything from a huge comfortable dining room, a fun bar with live entertainment and, yes, a place to get married if you don't want to hang out at a courthouse! (They also do catering….speaking of catering…. Chef Vince will do his best to "cater" to your dietary restrictions since he has one of the best Gluten-Free menus I've ever seen offered at an Italian restaurant….everything from bread to pizza to pasta!!!!!)
I felt right at home here and couldn't wait to taste his inventive dishes. (Zeal is offering both a $15 lunch menu AND a $30 dinner menu for Chicago Northwest Restaurant Week).
While you are looking at the menu, (Guess what…the dinner menus LIGHT UP!!! No more squinting or turning your camera flashlight on to see what you are ordering), you are going to be offered some bread and dipping sauce. Don't think twice…get it. Besides the fact that the bread is made in house, the dipping sauce is just delicious. A nice quality olive oil, some basil, some garlic and balsamic and I was addicted immediately. (I won't give away the other secret ingredient that really sent this over the edge but you won't want to miss trying this.)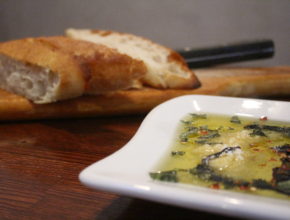 For the first course at lunch during Chicago Northwest Restaurant Week, you have the option of either Homemade Stracciatella Soup or The Very Chopped Salad. The salad was just the first example of Chef Vince's creativity. Chopped into small bite sized pieces (he wasn't kidding when he said VERY chopped) the pieces of romaine, celery, carrots, tomatoes, red onion, cabbage and cucumbers were sharing the bowl with some ditali pasta, delicious gorgonzola and the surprise crunch of crushed butter toffee nuts. (It took me awhile to figure out the flavor of the mango in the dressing but I absolutely loved it.)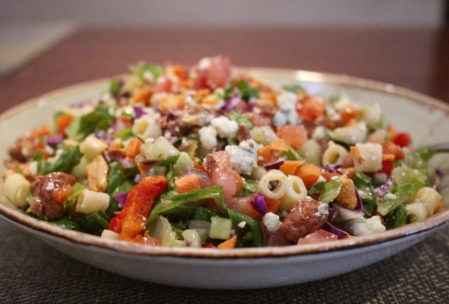 The first course at dinner during Chicago Northwest Restaurant Week will make you sit back and have a hard decision to make…a Cheesy Italian Beef Eggroll or Calamari French Fries.
The "eggroll" was reminiscent of a great Italian beef sandwich that you have grown to love in Chicagoland but with the wrapper of an eggroll. Toss on some of the mild giardinara and it was immediately a guilty pleasure.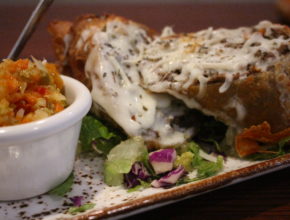 The Calamari French Fries were pieces of tender calamari steak cut to look like a steak fry (or maybe a mozzarella stick), batter dipped and fried. Dip them in a little of the cocktail sauce and you will have found one of your new favorite ways to eat calamari. (If you have a friend who has never tried calamari, this is the way to introduce it to them because it doesn't look "squidy".)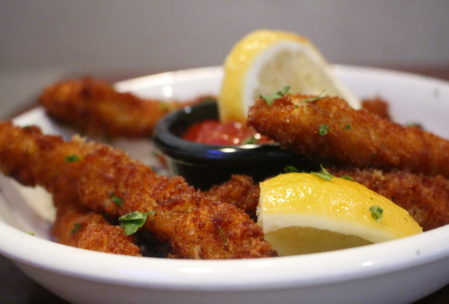 I say it will be ONE of your new favorite ways to eat calamari because I also tried the Grilled Calamari Steak. (It is not on the Restaurant Week Menu but it would be worth adding it on to your meal). Chef Vince takes a piece of calamari and marinates it so that it is tender and then pounds it into a filet. He seasons it very lightly and grills it. The calamari is then complimented with a vibrant balsamic reduction on some salad greens with roasted red pepper and grilled asparagus. (It was so amazing….my mouth just started watering at the memory!)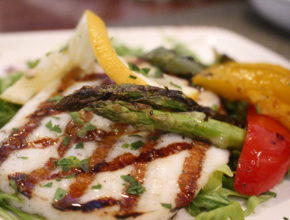 The Second Course lunch options include Gnocchi Suprema (the sauce is a non-alcohol voldka-ish sauce) or stuffed meatballs over polenta (I tried the regular meatballs and they made me want to say "That'sa Meat-a-ball" like they would do in old 70's sitcoms and commercials…..it was a thing of beauty to the eyes and mouth!)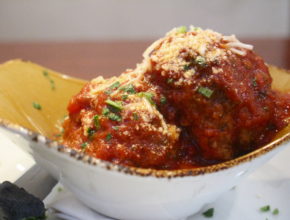 The Second Course dinner is where you will really have some tough decisions. You are given a create your own pasta option, the chicken suprema or the grouper.
The Chicken Suprema consisted of a juicy piece of chicken with eggplant AND a ginormous beefsteak tomato, fresh basil, fresh mozzarella all topped with the Suprema Sauce. It was like chicken and eggplant parmesan and a caprese salad all on one plate! (I will say the photo does not do it justice!)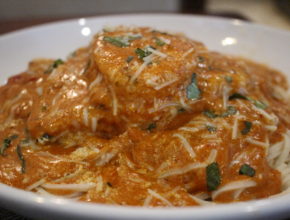 But I think if I were going to pick my favorite it would have to have been the Grouper Franchaise. This is the reason Grouper rhymes with super. The grouper is whisked with some flour and egg so it puts on this VERY light coating. It is not a thick batter by any means. Sautéed with some white wine and lemon on angel hair and you will get to experience one of the most delightful pieces of grouper ever. (It was seasoned in a way that the mild flavor of the fish still shined through while you got to experience each succulent bite)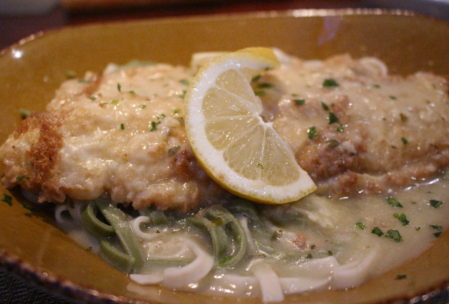 I will be honest and say that by dessert time I was stuffed but no one can humanly resist the third course offered at both meals…Zeal Original Gelato!!! Sea Salt Carmel Gelato folded with mini chocolate chips and locally popped Caramel popcorn, drizzled with chocolate and caramel. (Since I have a chocolate allergy, Chef Vince whipped up some sans the chips and drizzle and it was like a party in mouth!)
Going to Chef Vince's Zeal was really a great way to end my adventure of discovering a new favorite for Chicago Northwest Restaurant Week. As I was leaving, I heard the song Celebration over the radio and that is what I felt like I just did…celebrate the joy of eating a great meal.  I felt like I just so happy with the entire experience.  (The support staff is just amazing!)
Chef Vince is not only a super talented and creative chef, he is a very genuine nice guy. He not only cares about his food, he cares about his customer and wants everyone to leave Zeal with a full belly and smile on their face. It truly was an experience I will never forget and I will be back again…and again.
So with that said, I hope everyone has enjoyed learning about a few of the great options offered during Chicago Northwest Restaurant Week. You still have plenty of time to make your reservations and peruse some of the menus. (Remember that some of them may change without notice so if your heart is REALLY set on a dish, you might want to phone first.)
If you like to follow things on Social Media, don't forget to look for the #DineChicagoNW tag or go to the Chicago Northwest Restaurant Week Facebook Page to see other folks pictures and suggestions!
Thank you to Meet Chicago Northwest for setting up all my meals, the Renaissance Schaumburg Convention Center Hotel for giving me such a nice place to rest my head, Seasons 52, Sam & Harry's Steakhouse, Morton's The Steakhouseand Chef Vince's Zeal. You all truly gave me moments where I Felt Like a Foodie!!!
Enjoyed Felt Like a Foodie's blog post? Head on over here to read more of her adventures!